Engaged On Two Fronts: Pray For The Philippines And Iraq
I had hoped to write a brief update before things got very busy here again, and send an update on two significant events on the near horizon that I would ask any reading this to consider praying about. Within the next month we are hoping to send a team out for a return trip to northern Iraq to oversee the receipt and distribution of the shipping container full of winter clothing. We also hope to send a small team to the Philippines in early December for a pastor's conference of indigenous Filipino pastors, the majority being from the disaster area we sent a relief team to this time last year in response to Typhoon Yolanda.
Philippines Conference And Post-Disaster Follow Up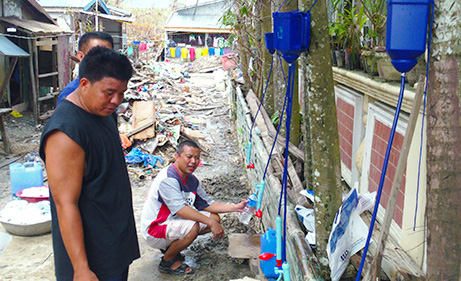 For those who don't know, our church along with Grace Community Church of San Antonio, TX started this relief organization a little over a year ago in response to the tremendous disaster in the Philippines from Typhoon Yolanda/Haiyan. God stirred the hearts of many at that time to go themselves, or support those who did, and a team went to do a clean water, food, medical and tool/building material relief mission to Samar and Leyte islands in the far east of the Philippines. During the time God gave many open doors for the Gospel, as well as friendships built with local pastors who had survived the ordeal and desired to minister to their community in the wake of this calamity.
A year later we are sending a small team of two pastors/preachers back to the same city we once camped out in doing relief work. This time, their main focus is spiritual relief in the form of a conference for approximately 30-50 indigenous Filipino pastors from the area. We received book donations from The Gospel Coalition's Theological Famine Relief Project (It's a pretty neat idea, you can see more about it here:http://www.thegospelcoalition.org/international/relief-projects) and have pretty much the full airline baggage weight limit of ESV study Bibles and Christ-centered book titles by R.C. Sproul and John Piper that the two men can carry. Pray for them, they are Mark Summers (Elder/Pastor at SGCC in Corpus Christi) and Lee Dodd (Elder/Pastor at Providence Chapel in Denton). They will be the main speakers for a three-day conference, pray God might use it to greatly bless and grow the church in these islands that are traditionally the least Evangelical of the islands in the entire Philippines.
This kind of post-disaster follow up with local church leaders and indigenous Christians is one thing we greatly desire to purse through this relief ministry. Going in to an unstable, devastated and needy area shortly after a catastrophe is only the first step in what we pray would become a long-term in-road to help the pastors, churches and peoples of these regions.
Iraq Relief And Winter Clothing Drive
The winter clothing drive is complete! Many thanks to the many people who sent clothes, donated their time or money towards this, and especially to those at GCC in San Antonio who gave many of their off-days to receiving, organizing, boxing and then loading the giant shipping container. In the end after all of the clothing, blankets and used clothing bales we had purchased from a wholesaler were loaded, the final shipping weight of relief goods was over 30,000 pounds! That's a lot of clothing that we pray would really help a lot of people out there in Iraq. The container is now somewhere in the Atlantic on a shipping freighter headed towards the Middle East. Pray it would not be delayed.
The team for this next trip is close to being formed by now, although we need to pray God might provide an Arabic translator, as we learned this week the Kurdistan government is not granting visitor visas for Arabs at this time, closing the door for our Lebanese friend to come and help. God will provide in some way, though at this time we have no translator committed to the team. Either way, I am preparing for our team to travel over a few days before we have reasonable expectation that the shipping container will be at the Iraq/Turkey border; these things are highly unpredictable in this region, but we trust the Lord will provide. We hope to be working closer with the Kurdish churches this time in the distribution, but still have a desire to bring these relief goods, as well as spiritual goods, to the needier populations outside of the larger cities. Just because the Lord worked out all things on this last trip does not give us cause to presume upon His grace and neglect to pray and seek Him just as earnestly for help in this upcoming mission. I would ask all reading this to consider that and not be tempted to complacency. There are yet still many hidden and, at times, very visible dangers out there. "…For a wide door for effective service has opened to me, and there are many adversaries." – 1 Corinthians 16:9
Iraq Winter Clothing Drive Video – Watch It Below!
If you didn't get a chance to see the video that a brother at GCC put together about the winter clothing drive load up at GCC, I put video on this post. It is a very short video but shows well the fruit of many labors and gifts towards this project, I'd encourage you to watch it if you have the time!