Harvey Relief – Hit The Ground Running
It's only been a few days, but the first team into the storm affected areas in Houston already hit the ground running!
They've been cleaning, gutting and stripping down homes since only a few hours after arriving on Monday, and are still going strong as the week wears on.
Pray for them! It is hard work, often without any A/C or even a fan to help cool them down in the Texas heat.
They have helped clean out flood debris, mud, and remove water-logged drywall from over half a dozen homes so far.
We are also getting out into other areas to assess for further needs, and are finding that in some areas the water still hasn't receded yet to even begin the cleaning process!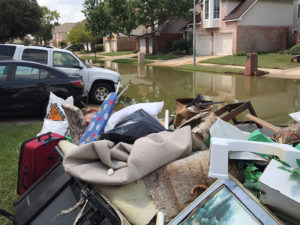 We have also visited a few homes to assess for rebuild help.
One family faces severe challenges as the husband is also fighting stage IV cancer!
We are hoping to provide help in rebuilding by replacing drywall and flooring as possible based on the home owners needs.
We have a need for skilled labor volunteers, even if they haven't worked in construction but have knowledge on hanging drywall and installing flooring/carpet from their own projects, this is needed knowledge to augment the teams.
We anticipate new teams to form and deploy in coming weeks, pray for them and for the present needs as well!